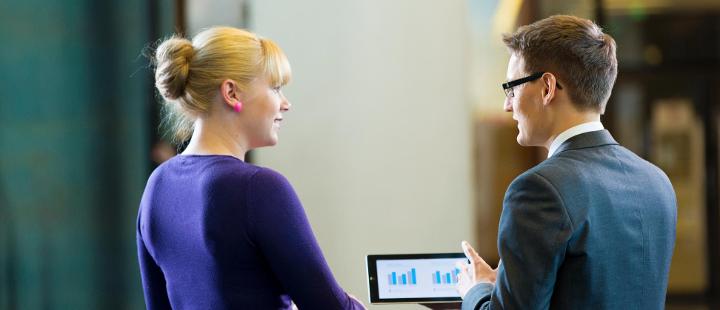 Transact safely with us. Read about the steps we take to ensure safe transacting and how you can contribute to the safety of your online transactions.
Accessibility statement
Web accessibility means that anyone can access digital services easily. Accessible digital services benefit everyone, but often they are absolutely necessary for persons with disabilities or functional limitations.
Accessible online services can be used by taking advantage of a screen reader or on a keyboard. An accessible online service provides a clear user interface, and the content there is easy to understand.
LocalTapiola strives to ensure that our websites and mobile applications are accessible in compliance with the Act on the Provision of Digital Services (306/2019). The accessibility requirements concern all LocalTapiola Group online contents, with the exception of the services provided by LocalTapiola Finance.
This accessibility statement covers the online services provided to LocalTapiola's private, corporate and farm customers, the lahitapiola.fi website and its language versions, as well as the TerveysHelppi, LemmikkiHelppi and LähiTapiola Sijoitukset mobile applications. This accessibility statement was prepared on 9 September 2020 and updated in December 2022.
The LocalTapiola online services and the lahitapiola.fi website were launched before the Act on the Provision of Digital Services entered into force, which is why the accessibility requirements concern the contents of our services as of 23 September 2020.
Assessment of the state of these services is based on LocalTapiola Services Ltd's own evaluation, and functioning was verified primarily using the Windows operating system, the Chrome browser and the NVDA screen reader.
State of accessibility at LocalTapiola
We are continuously developing the LocalTapiola online services to be even more accessible. Apart from technical accessibility, we strive to foster the ease of service use, while making the contents easier to understand.
For the most part, all insurance and claims services provided to corporate and private customers, and our services for saving and investment, are accessible.
The LocalTapiola payment services are accessible. These payment services include purchasing, invoice payment, and additional payments.
The Community Forest 'Forest Valuation Calculator' is accessible.
The accessibility failings in the TerveysHelppi application will be remedied in the course of 2023.
The LähiTapiola Sijoitukset mobile application is accessible.
For the most part, the digital life insurance application service is accessible. Efforts are made to remedy the accessibility failings during 2023.
Not all videos and audio files published on the website and in the online services are subtitled.
The CAPTCHA module used in our online forms does not meet the applicable accessibility criteria.
Accessibility of files
We will be remedying the accessibility failings in all files published on or after 23 September 2018. Customers can also request to have files published before 23 September 2018 provided in an accessible form. All requests must be reasonable. Our online transactions use PDF-format forms, product descriptions, insurance terms and conditions, sales documents, and various files displayed from archives. Of the PDF-format files, the product and sales documents are, for the most part, accessible.
Investment PDF files have some accessibility failings, which we will be remedying on a regular basis during 2023. Customers can request to be sent files in an accessible form. All requests must be reasonable.
The other PDF files, such as PDF forms, do not meet all applicable accessibility criteria. We will be remedying these failings during 2023. For the time being, archive printouts do not meet the applicable accessibility criteria, but customers can request them in an accessible form by sending an email to saavutettavuuspalaute (at) lahitapiola.fi.
Accessibility of mobile applications
Our mobile applications include TerveysHelppi, LemmikkiHelppi, and LähiTapiola Sijoitukset. For these applications, the key accessibility failings that can be remedied with reasonable effort have been repaired.
Accessibility of social media
The social media channels that LocalTapiola uses include Facebook, Twitter, Instagram and LinkedIn. Our regional companies have their dedicated social media accounts on Facebook.
We strive to address accessibility issues in social media by employing accessible contrast and font sizes, as well as by providing captioning and/or subtitling in saveable videos. From the start of 2022, without exception, the Group's social media video contents feature captioning and/or subtitling in all videos with audible dialogue. However, the social media contents we produce continue to be affected by accessibility failings. Not all videos contain audio description, and images are missing Alt text. Efforts are made to remedy the situation during 2023.
Services for customers using sign language
For our sign language customers, LocalTapiola offers a free-of-charge Chabla mobile application, which customers can use to make a video call to our service number 08001-52400. An interpreter will be added to these video calls.
Accessibility feedback
If you discover any accessibility issues on the LocalTapiola website or in our online service, you are encouraged to email feedback to saavutettavuuspalaute (at) lahitapiola.fi.
We will respond to your feedback within two weeks. If you are not satisfied with the response you receive, or if you receive no response at all, you are advised to convey your feedback to the Regional State Administrative Agency for Southern Finland.